About Me
Vojtěch Vlk
Born in 1973 in Třebíč, Moravia, Czech Republic
Has been living and working as a freelance photographer in Prague since 1991
I was born under the sign of the Aquarius in Czechoslovakia and grew up in a small town (Moravské Budějovice).
I have loved taking photographs since I was a kid. I was given my very first camera for my 10th birthday. It was Russian SMENA camera, which led me into the magic world of light and shadows…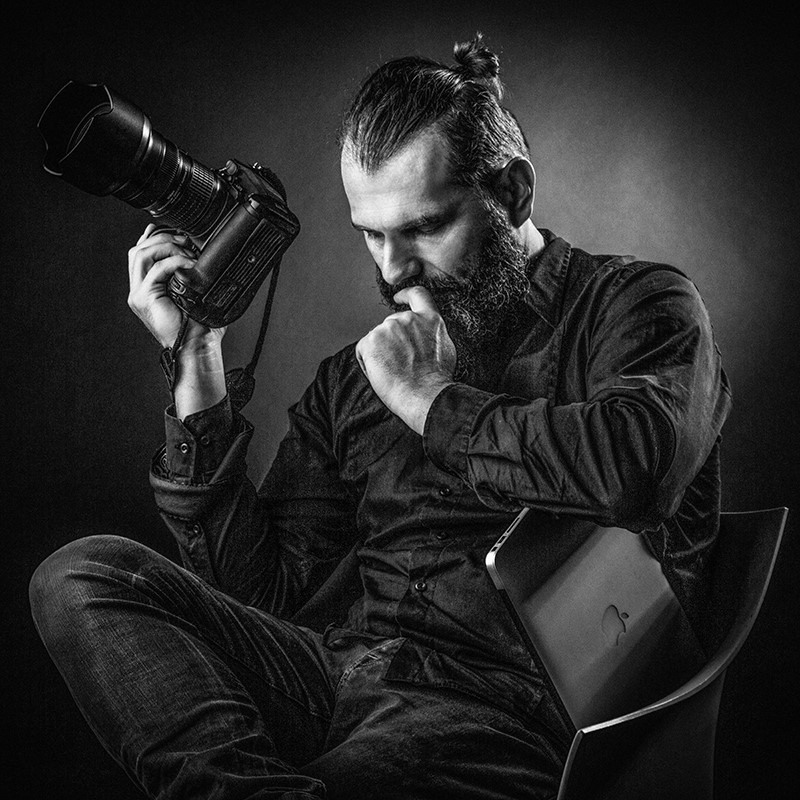 My future was cemented by the velvet revolution of November 1989. The streets were full of people expecting big changes. I, too, lived the revolution and tried to catch this unique moment with my camera. And I realised that THIS is what I want to do for the rest of my life.
Photography still fascinates me with its diversity and the infinite creativity it offers as a medium. Maybe that is why my work is so varied. I enjoy experimenting and "drawing with light" in various ways – by the way, "drawing with light" is the literal translation from the original greek word fós-grafis – photo-graph.
And I still like meeting people. That is why portrait photography is my favourite discipline.
My favourite artists? Albrecht Duerer or Leonardo Da Vinci. From the contemporary photographers, I find Annie Liebowitz, Anton Corbijn and Erwin Olaf the most inspiring.
Education
1996–2002 Academy of Art, Architecture and Design in Prague (Czech Republic)
Studio of Photography, director prof. Pavel Stecha
Fellowships
2002 Emily Carr Inst. of Architecture and Design, Vancouver
1999 Universitat für Angewandte Kunst, Vienna
1998 Bezalel Academy of Art, Jerusalem
Selected collective exhibitions
2015-2016 HatefreeArt - Hatefree Culture +DOX
2013 - 2014 Where Is My Home? - DOX Centre for Contemporary Art, Prague (CZ)
2013 VLK/OELZ – Photo/Graphic – Transparent Gallery, Prague (CZ)
2011 Jolly Skeleton - Náprstek Museum, Prague (CZ)
2003 A Tribute to Courage – Langhans Gallery, Prague (CZ)
2002 Israel 98/99/00 – Liben Synagogue, Prague (CZ)
2002 Confrontation – Prague House of Photography (CZ)
2002 Memorable Decline – ECIAD Gallery, Vancouver (Canada)
2002 12 Candidates... – Josef Sudek Gallery, Prague (CZ)
2001 Image link (Czech humanitarian photography) – Prague (CZ)
2000 Czech Press Photo – City Hall, Prague (CZ)
1998 Body and Photography – Small Gallery, Kolín (CZ)
Selected individual exhibitions
2016 TranSpiRituals - NIKON PHOTO GALLERY, Prague
2016 COEXIST
- Galerie 1, Prague
2013 Footsteps – videoinstalation at Wilten Monastery Innsbruck (A)
2009 Sápmi – Cafe Nordica, Prague (CZ)
2006 Transformations – Bethlehem Peace Center (Palestina)
2004 Stift Wilten und seine Chorherren – Innsbruck (A)
2003 Capuccini – University of Texas - UCC, Austin (USA)
2002 Panta Rhei – Museum Vodnany (CZ)
2001 Via India – Museum Moravske Budejovice (CZ)
2000 Memories of Jerusalem – Kunstforum Ebendorf (A)
1999 Recherche Als Methode – Czech Cultural Centre, Vienna (A)
1998 Family of Man – Bezalel Academy Gallery, Jerusalem (ISRAEL)
Grants / Awards
1999 Artist in residence, Vienna, KulturKontakt Austria Foundation
Collections
Museum of Decorative Arts in Prague and privat collections
Books
TranSpiRituals – Kant, 2016
Was ewig bleibt – Tyrolia Verlag Innsbruck, 2006